FormaCar Action, a significant GameFi project, will take you to a world of futuristic cars and open you new opportunities for the bitcoin market. With the thrilling virtual racing experience, players may compete, accomplish daily missions, and collect tokens, trophies, and more.
By using NFTs to buy stronger wheels and tuning components, players can advance in the game's levels and enhance the performance of their characters. NFTs can also be used by players to buy accessories.
Players will be able to download a beta version of FormaCar Action in December 2022 for both iOS and Android. Let's take a look at one of the most anticipated GameFi releases of the season as the year comes to a close.
What is Formacar?
Formacar Crypto is a new trend among automotive metaverses. The main project just to be released in Alpha-state (Dec 2022) is Formacar Action. This is the first racing mobile Game-Fi app with P2E and D2E elements.
The core IT architecture of FormaCar is focused on automobiles, and the company provides a wide range of B2B and B2C online services to customers worldwide. The ultimate goal is to bring together auto enthusiasts and supply the worldwide game markets with high-quality goods that are nevertheless reasonably priced and with solutions that are easily accessible.
FormaCar has an advantage over rivals because to its eight years of experience developing unique web-based services that make use of cutting-edge 3D and AR technologies. FormaCar has all the necessary components to become a worldwide powerhouse and can thus advertise its products and establish alliances everywhere in the world.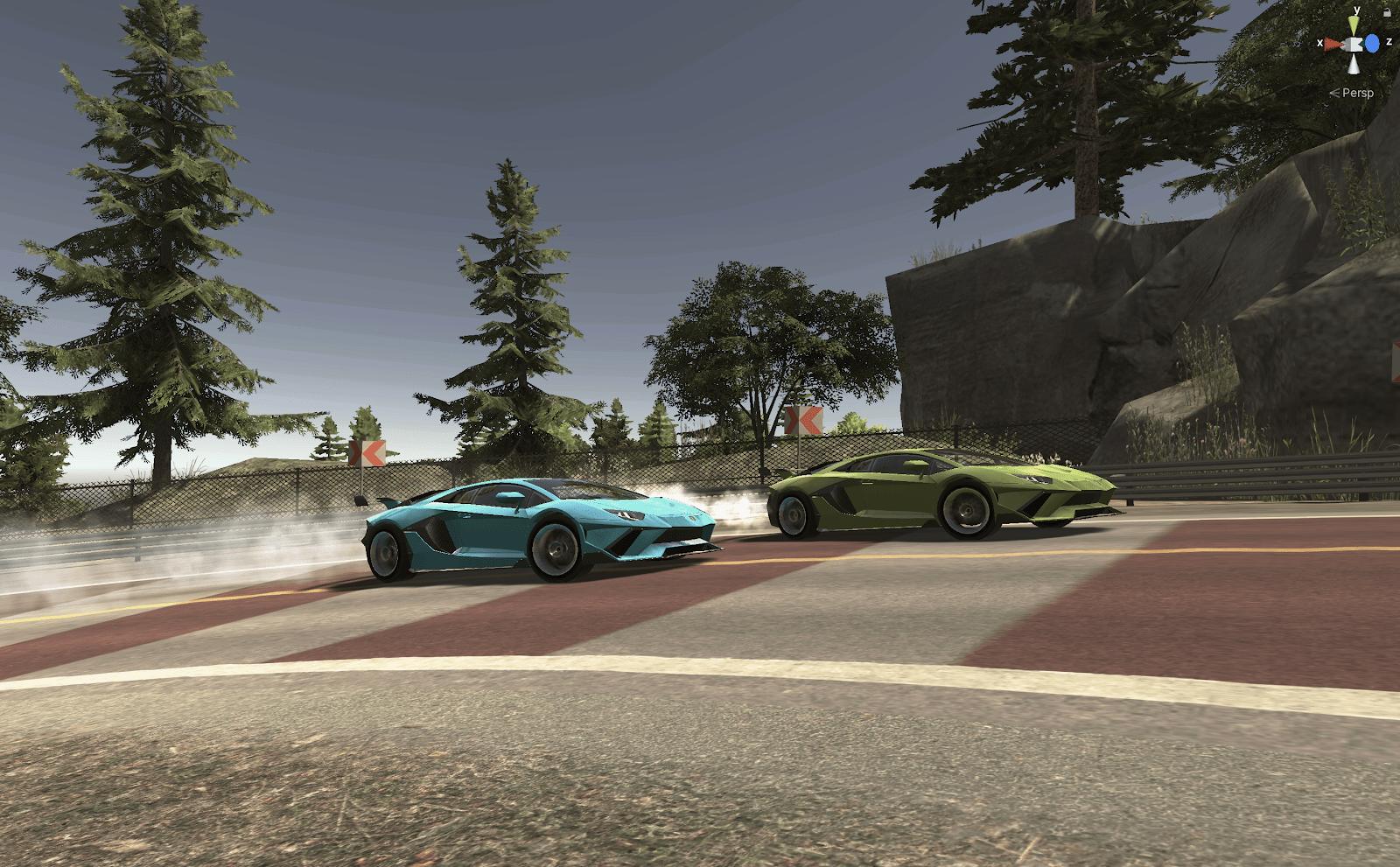 The FormaCar iOS and Android applications (found at https://www.formacar.com) are the most well-known of the handy tools the project team has so far developed. Here are a few benefits of selecting mobile apps:
A application called the 3D Configurator works with 3D models to create visual and audio outputs that may be customized by the user. More than 1,000 3D models of automobiles, 200 3D models exclusively for tuning components, and more than 1,500 3D models exclusively for aftermarket wheels, all from global market leaders.
The 3D Configurator has an Augmented Reality setting. When users virtually customize any car in the Configurator inventory, 3D models are displayed overlaid on their actual surroundings using projection mapping and cutting-edge data technology. The vehicles' exterior and interior will be scrutinized in great detail, and their sizes will be modified as necessary to ensure that they blend in with the surroundings. Before making a purchase, users can visually try on a set of aftermarket rims from the 3D model collection.
Formacar Action Alpha Version Release + NFT Pass Mint Campaign
A larger audience is familiar with Formacar Action being the first GameFi P2E & D2E project introduced under the aegis of the Formacar Crypto international brand. The World of Formacar Action is something that they are developing with the assistance of 60+ Senior Unity developers, project managers, and game designers using their previous six years of experience in the Web2 and Web3 digital worlds.
Why is it so important for their team and the audience to get the Game-Alpha app's Version up and running as soon as possible and what does it involve?
In essence, the process of creating each app is not all that different. Prior to beginning a 1-year development cycle to produce a distinct outcome known as a "MVP," or "Minimum Viable Product," it takes approximately 4 months to create the project's primary documentation, game-screen mock-ups, and internal economics. The MVP offers the chance to comprehend how each developer's contribution is transformed into a single playable item that the QA team must then dissect down to its bare essentials, identify what is not functioning properly within the Game-app, and report back to the Dev Team Leads.
After the problems and code-backdoors in the MVP have been fixed, the product needs to be tested in real-time utilizing more game traffic, which necessitates genuine player volume. At this point, the concept of "Alpha Version" assumes prominence.
To research the Server Highload Metrics, UX/UI Customer Development, Game Mechanics, Graphics Engine, and of course Player's Experience, Formacar Action Alpha Version launch is critically needed. Each project must go through this if it hopes to produce something extraordinary and market-changing.

However, they should provide players that sign up early an incentive! As certain members of their audience are already aware, the $FCG Token, which has a total emission of 1 billion, is the foundation of the Formacar Crypto goods.
Each participant will obtain a $FCG token by participating in Races against live Players in the Beta and Prod game-app versions.
You will get 233 $FCG tokens once you've joined the Formacar Action Alpha Version public testing stage! So think of this as an investment that will provide You with a significant income in the first quarter of 2023!
You must register inside the Formacar Action Alpha Version apps for Android and iOS using your EVM wallet, which contains an NFT Pass that can be obtained through the Whitelist and Public Sale on Friday, November 25, 2022, in order to participate. Starting on December 18, 2022, users will be able to download the Alpha Version through the App Store and Play Market.
Roadmap
The tasks and achievements of FormaCar Action in 2022, as well as the project's goals for the end of 2022 and the year 2023, are described below.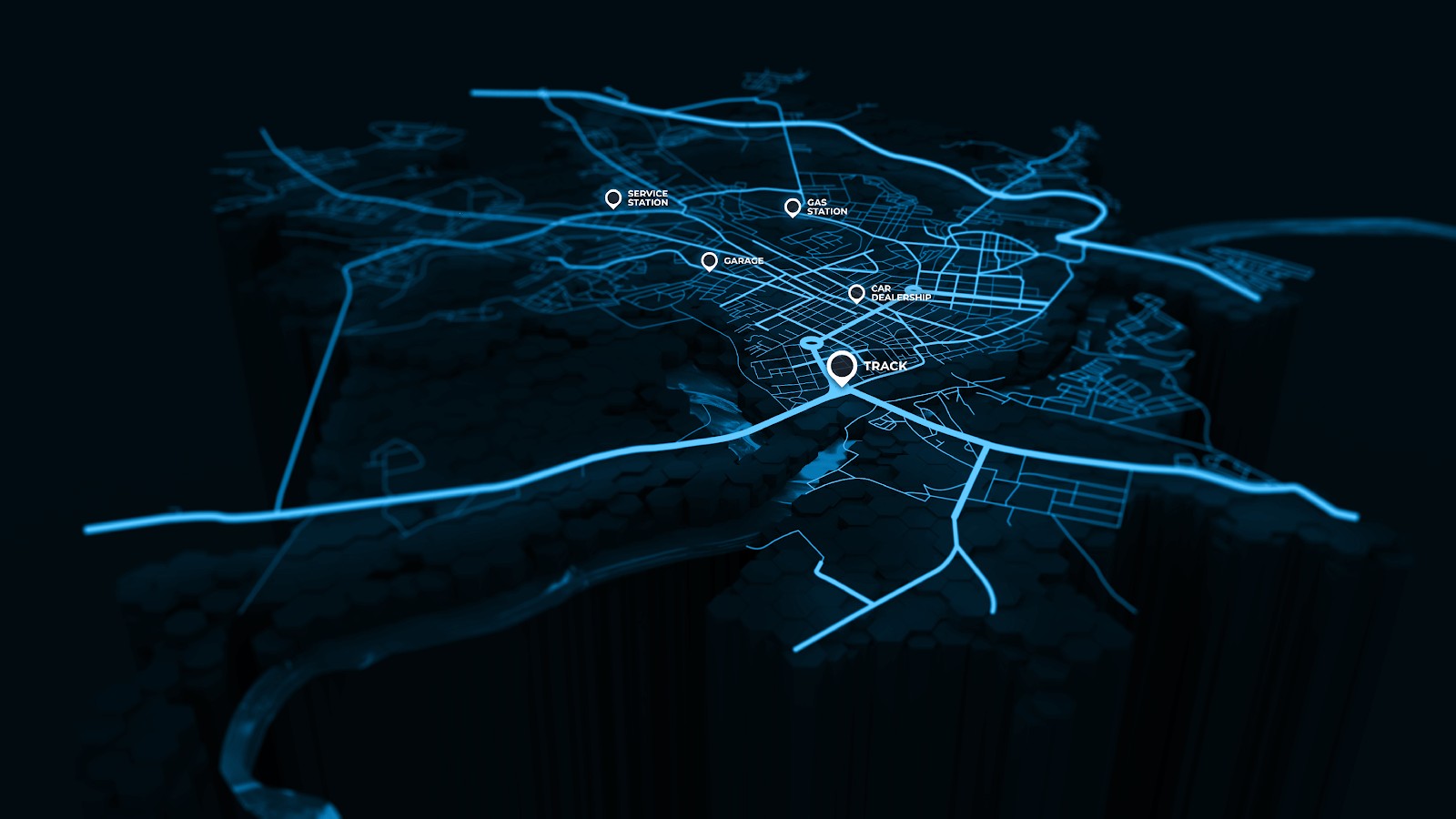 Q1 2022
In the midst of market launch preparations
Putting the finishing touches on the app before releasing it on the App Store
Q2 2022
Development of Formacar.io website
Development of FormaCar Action's Packaging
Tokenizing the $FCG utility with a smart contract
Q3 2022
Continuing work on the project's cryptographic framework
The $FCG Token's Initial Coin Offering
Demonstration of the Drive2Earn Game Concept (D2E)
The preliminary stages of FormaCar Action's marketing strategy
The development of a preliminary version of FormaCar Action
Q4 2022
The Alpha Version's NFT Collection Design
The development of NFT collection smart contracts
Audit of $FCG smart contracts
Starting sales of NFT collections that give access to FormaCar Action's alpha version
Putting out the alpha version of FormaCar Action on the iOS and Android platforms
Presale rounds via Launchpad and in-house platform
FormaCar Action's active marketing campaign
Q1 2023
Implementing D2E mechanics in FormaCar Action
FormaCar Action's public beta release on iOS and Android
$FCG DEX preparation for listing
Launch of D2E mechanics in the game that came out
Q2 2023
Releasing the final production version of the FormaCar Action game
Releasing the D2E mechanics
$FCG token DEX listing
$FCG farming
$FCG stacking
FormaCar Autoverse development launch
Q3 2023
In-advance sales of FormaCar Autoverse items (land lots, buildings and structures)
Exchange Listing in the Top Ten
Formacar Autoverse's final release
Tokenomics
Every car is a BEP 721 compliant NFT asset that may be combined, developed, appreciated, and used in a profitable way. This item's ultimate asking price may be substantially higher. The NFT value of a car increases whenever an interior or external component is added, reflecting the addition of that component.
Each team member is an NFT with the ability to develop, gain levels and experience, be valued and trained, increase the team's chances of winning medals, and ultimately be sold for a much higher price.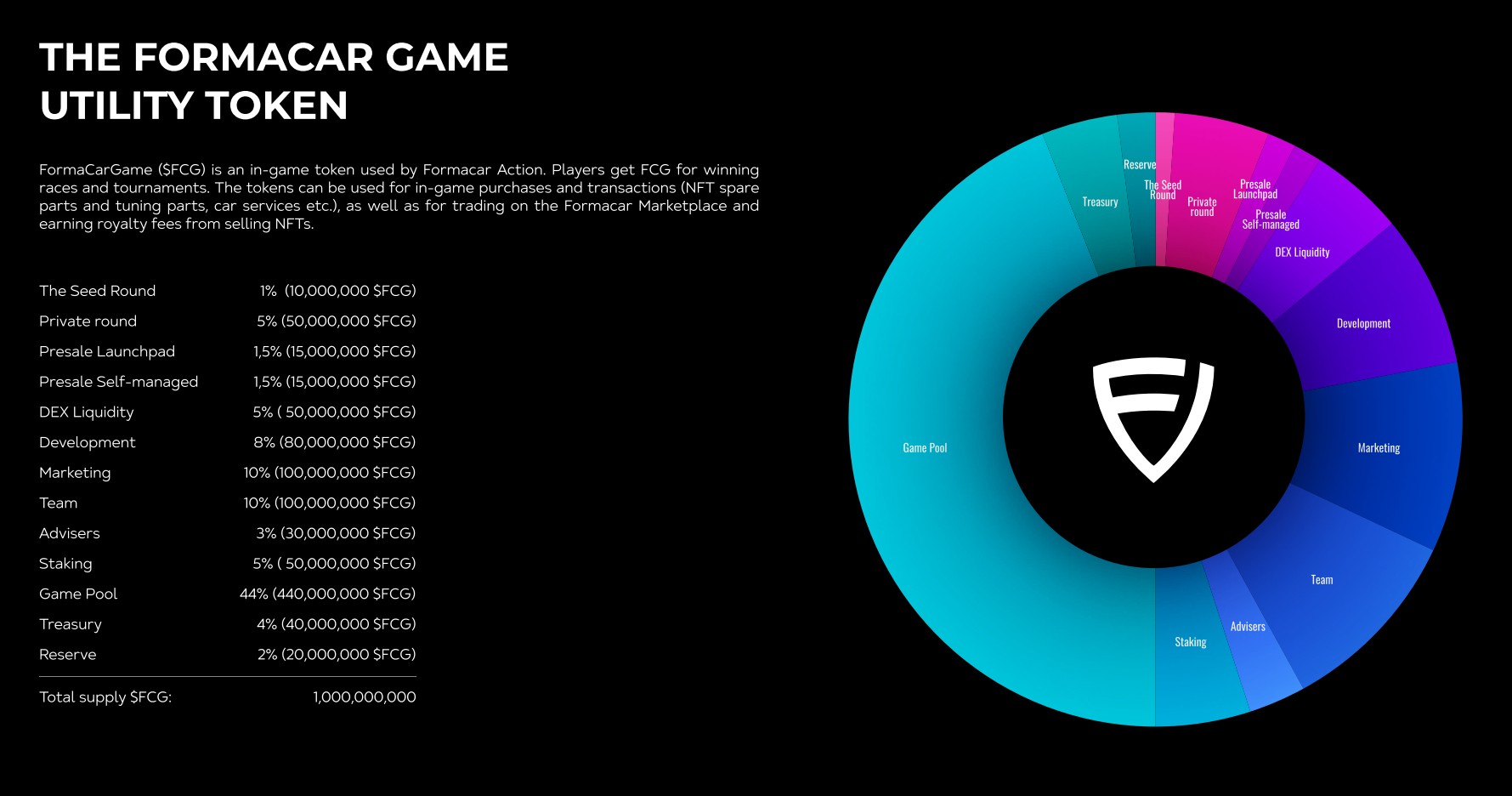 Every element of the Formacar Autoverse infrastructure is a non-fungible token (NFT), which implies that its value can grow over time, be rented out, amass interest, and be sold.
The FormaCarGame Utility Token ($FCG) makes sure that all transactions involving the costs, income, and rewards of the players inside the Autoverse ecosystem are completed.
Similar to the $FCG Token, there is no other utility token or ecosystem like FormaCar Action. Bep-20 (BSC) tokens are what you're holding. The $FCG Utility Token is used to settle all financial transactions in FormaCar Action and the FormaCar MetaVerse.
The blockchain ledger system accurately reflects the ownership of all equipment, vehicles, vehicle parts, and team members.
Seed Round – 1% (10,000,000 $FCG)
Private round – 5% (50,000,000 $FCG)
Presale Launchpad – 1,5% (15,000,000 $FCG)
Presale Self-managed – 1,5% (15,000,000 $FCG)
DEX Liquidity – 5% ( 50,000,000 $FCG)
Development – 8% (80,000,000 $FCG)
Marketing – 10% (100,000,000 $FCG)
Team – 10% (100,000,000 $FCG)
Advisers – 3% (30,000,000 $FCG)
Staking – 5% ( 50,000,000 $FCG)
Game Pool – 44% (440,000,000 $FCG)
Treasury – 4% (40,000,000 $FCG)
Reserve – 2% (20,000,000 $FCG)
Official Links